Study Physics!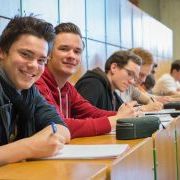 Why study physics?
Are you curious and amazed at the many small and large natural phenomena around us? You want to understand things and not just memorize them? Are you looking for a degree that will qualify you for many interesting professions regardless of fashion trends, and at a university with very good study conditions?

Then studying physics in Bayreuth is the right choice for you.

With a bachelor's or master's degree in physics, all career options are open to you: as a project leader in the research department of a large industrial company, as a software developer, as a medical physicist, in management consultancy, as a teacher or as a financial expert - physicists are creative generalists. Combined with the special Bayreuth model of different foci, you will receive an education that is second to none.

"It's great, of course, that you learn to deal with issues that are an eternal mystery to many people, and questions often crop up among family or acquaintances, and you suddenly find yourself the only one at the coffee table who can answer them."

Sebastian M. from Kronach
---
Why physics in Bayreuth?
Bayreuth physics regularly occupies the top spots in the Germany-wide CHE ranking. And not without reason. The Bayreuth students are particularly impressed by the close contact with the professors, by the manifold possibilities for early independent research and, above all, by the close cooperation between the students. The special Bayreuth model of the major fields of study combines content-related focus with flexibility and own design options. Each of our five main subjects General Physics, Biological Physics, Technical Physics, Environmental Physics and Physics & Philosophy has its own adapted curriculum and leads after three years to the highly regarded Bachelor of Science in Physics with the respective focus. And best of all: within the first two semesters, the focus can be changed at any time.

If you would like to teach others something and therefore can imagine the profession of a physics teacher, we offer you a special opportunity in Bayreuth: at the end of a teacher training for high school with physics as a first subject you will receive a full Bachelor in Physics. This offers you the best opportunities to enter the profession of a physics teacher but also, if you should change your mind, the opportunity to study for a master degree or to change to the industry.

Completely straightforward in Bayreuth is the transition to the master's program. Already at the end of the Bachelor's program, Bayreuth students regularly take courses from the Master and can then introduce them directly into a later Master's program. Incidentally, our Master of Physics follows a similarly flexible model as the Bachelor. The main topics of the Master are Biological Physics, Solid State Physics, Nonlinear Physics, Soft Matter and Molecular Systems.

"Are you fighting with a subject, and this time is coming, you can knock on the door of a physics professor and he'll have an open ear for you."
Carina B. from Mistelgau
---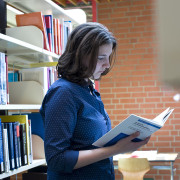 What awaits me during my studies?
First of all a lot of exciting questions (and answers!). And above all, a diversified study routine consisting of illustrative lectures with numerous experiments, exciting laboratory and computer practicals and, of course, a good dose of mathematical theory. The whole thing is crowned by your own research achievements in the context of the bachelor thesis.

The basic program of all five foci in the Bayreuth Bachelor's program consists of lectures on experimental physics, theoretical physics and extensive practical experiments. In addition there are the minor subjects, at the beginning of the study, especially the mathematics, which - another Bayreuth peculiarity - is taught here in its own, specially adapted for physicists variant. From the third semester electives of physical and non-physical direction will be added. Depending on the area of ​​study, a number of lectures from other disciplines (biology, geography and engineering or philosophy) are also an integral part of the curriculum.

"After a busy day with many lectures, of course you have at first understood only a small part of it, but you sit down full of enthusiasm at the desk to understand all the new physical phenomena of which you have just learned today that they ever exist."
Carina B. from Mistelgau
---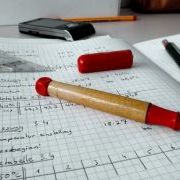 The Bayreuth model of the major fields of study
The Bayreuth model focuses on a clearly structured education with a maximum of individual flexibility. The basis for all five foci is a series of lectures as well as laboratory and computer practicals that cover all core areas of physics in their entirety. The individual emphases are then distinguished by additional and special lectures in physics and other disciplines. The decision for one of the foci usually takes place in the first two semesters, but is still possible later. If you study with the aim of teaching at high shcool, you choose a second subject instead of a focus. But you receive the same careful education in all fundamental disciplines of physics and thus also the full Bachelor of Science in physics.
General physics
Physics is the science of the "big picture". Their central goal is to identify commonalities also and especially between very different systems in order to find concepts and laws of as general validity as possible. This large overview will be given to students in our main subject General Physics, whose content is complemented by a wide selection of elective courses.

Biological physics

How does a cell organize and move? Which forces work when and where? How do body axes develop in the embryo? How do drugs distribute in the bloodstream? How do cells of the immune system eat harmful bacteria? How does a plant gain energy?

These are original physical questions! How you as a physicist can contribute to the solution of such questions can be found in our focus on Biological Physics, which also plays a key role for research in Bayreuth. And after the bachelor's degree, it continues directly in the same subject as the master's degree and, assuming excellent grades, in the elite study program Biological Physics.

Technical Physics

In addition to a solid fudnamnetal physical education, our focus on engineering physics includes application-oriented subjects in the fields of law and business administration.

Environmental Physics

Life on earth takes place in a highly complex system, in which countless numbers of building blocks interact and condition each other - and thus is a prime example of the physics of complex systems. Through its interdisciplinary approach in physics and geosciences, the focus on environmental physics offers its students the tools they need to develop sustainable solutions for our planet - from the climate, to water supplies, to biodiversity.

Physics and philosophy

Physicists measure. And physicists calculate. But what makes science actually science? When is an explanation a "good" explanation? And when not? Our special focus on physics and philosophy, which is unique in Bayreuth, gets to the bottom of such questions through lectures such as philosophy of science or logic and argumentation, held by professors of the faculty of cultural studies.

"I especially like the large and, above all, wide range of special lectures for Bayreuth physics for both undergraduate and graduate students (both in the bachelor's and master's degree programs) and good contact with the professors."
Katharina G. from Bayreuth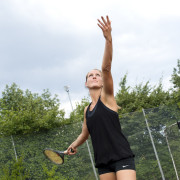 Campus of Bayreuth University
Short distances, contact to other disciplines and a wide range of leisure activities: Welcome to the most beautiful campus in Germany!

"I think a campus university is much nicer than a university, where you have to walk halfway through the city to get to the building you want."
Sebastian M. from Kronach
---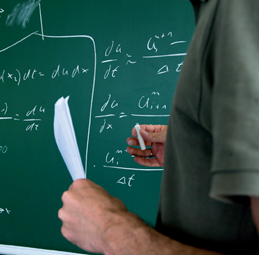 What should I be able to do?
The most important prerequisite for a successful study of physics is enthusiasm and fascination for the world that surrounds us. Why is the soap bubble shining? How does a football fly around the bend? Why does a cell actually need oxygen? What are nanoparticles doing in sunscreen?

Undeniably: Studying such questions requires tenacity, endurance and sometimes a long breath. We will not leave you alone. The effort is rewarded by numerous aha effects, exciting insights into nature and technology and - not least - by a degree that opens up a variety of career opportunities incomparable to any other subject.

The mathematical and scientific knowledge acquired for the german high school diploma Abitur (independent of the federal state) are generally sufficient for the beginning of a physics study in Bayreuth. If you still want to freshen up your knowledge, there is the pre-course Mathematics as well as the Online Mathematics Bridges Course OMB+ before the beginning of each winter semester.

"By being at a musical high school and not being able to write a high school diploma in physics, I thought I could not take a physics degree, and in retrospect, I can say that this worry was completely unfounded."
Marcel S. from Neustadt

"What you need to bring along is motivation and enthusiasm. The mathematical foundations, which are always necessary (from the beginning), are brought to everyone (once again) very understandably. "
Christian B. from Marktredwitz
---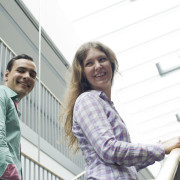 How can I apply?
Beginning the Bachelor's degree course is possible every winter semester. Physics is a non-admission study program so that a formal application is not required. Instead, enroll directly through the Study Secretariat.

If you already have a bachelor's degree in physics from a German university, you can enroll directly in the master's degree through the study secretariat. A formal application is not required, because many years of experience show that after successful completion of a bachelor's degree in physics or in a comparable subject, the master's degree program is usually mastered as well. Prospective students with a Bachelor of another subject or from a foreign university first turn to the Examination Board, which decides on the admission to the Master in Physics in Bayreuth.

"I found the study entry in Bayreuth very easy - the student council organizes information events, university and city tours for the freshman and for further questions I could always turn to my trusted professor."
Katharina G. from Bayreuth
---